Nisantasi University housing
Maslak Mahallesi, Sarıyer/İstanbul
Overview
Property ID: HZ33
External Housing, University Housing
Property Type
Description
The Nisantasi University Housing for students applying to study at the university is a basic need that must be present. Therefore, Nisantasi University Residence is an important , since students are applying greatly to obtain a study seat inside the university, and for this reason, there must be comfortable accommodation that makes students complete their educational attainment. Therefore, Turk Hostel worked within this field, which allowed the student to choose his educational opportunity in the place he preferred without worrying about the presence of comfortable and safe housing, because Turk Hostel worked to make this need feasible through it, in addition to providing housing with high quality and good specifications. Because the student's comfort and happiness in fulfilling this service makes him put his confidence in leaving the hostel, which is a primary goal and goal for them.
Where Is Nişantaşı University Housing Located ?
The Nisantasi University Housing is located in the best area of Istanbul, specifically in the very famous Maslak area, which is a rich area with a view of the forests.
The Nisantasi University dormitory is located on its campus, and it includes two campuses:
– The First Sanctuary: The Osman Bey Sanctuary
– The second campus: Newtech campus, located in the Maslak area
Both campuses are modern and the university housing is characterized as a large and spacious building that can accommodate a large number of students, in addition to that it overlooks a beautiful and comfortable garden for the student.
Nisantasi University residence is located in the European side of Istanbul, specifically in the Maslak area.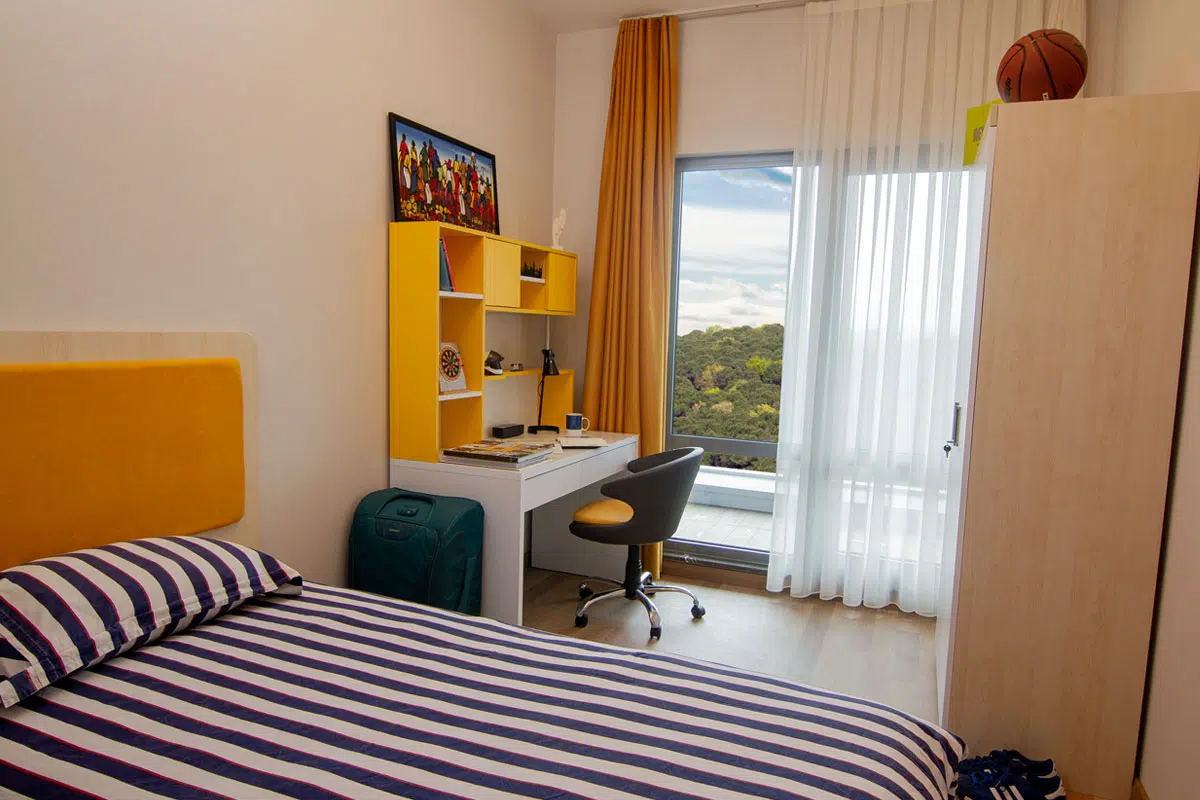 Advantages Of Nisantasi University Housing:
The most important thing that makes the university housing at Nisantasi University in Maslak special is the vastness of the building and its immensity, as it accommodates large numbers of students, but it is equipped with the latest equipment that suits students and makes them comfortable during their stay, and this is what makes students go to study at Nisantasi University and enroll With its university dormitory, which is one of the most important serviced university dormitories, Turk Hostel works to meet the needs of students by choosing the appropriate housing for them inside Nisantasi University dorm, and Turk Hostel always strives to gain the trust and love of its customers by providing the most important of what they need from Services and satisfying their desires in the best way, Turk Hostel clients are students today, whether Turks or those coming from outside Turkey, who need safety in order to complete their educational path without problems and obstacles, so Turk Hostel provides the most important elements in Nisantasi University housing, which is safety and comfort For the student, and also, it must be known that Nisantasi University residence gives the student enjoyable and entertaining free time by practicing various sports inside the halls equipped for this, which enables them to recover their energies and activity and make them more During the study, many services are also available within the student at Nisantasi University residence :
– In Nisantasi University dormitory, the student can choose his roommate and choose the number of partners present in one room.
– Within the Nisantasi University residence there are gyms for students to spend enjoyable leisure time and practice their many hobbies.
– Nisantasi University residence has fast and uninterrupted in-room internet that enables students to make their studies easier and faster.
– Inside the rooms of Nisantasi University residence there is a kitchen that enables students to eat and make their own food whenever they want.
– Within the Nisantasi University dormitory , there is a public kitchen for housing that contains different types of food and drink provided to all students.
Nisantasi University Housing Prices :
Turk Hostel provides student at Nisantasi University housing an average cost that suits all students, whether local Turks or from anywhere else in the world, but prices vary according to the room, its features and the number of people in it.
Nisantasi University residence offers various and different features in its university residence, from kitchens and furniture, in-room storage, tables and desks, in addition to medium rooms that accommodate one or two students, or larger rooms that accommodate more students.
– Room per person at a cost: (For price click here)
– Room for two people at a cost: (For price click here)
– Room for 3 people or more at a cost: (For price click here)
– Rooms with full furniture at a cost: (For price click here)
How does Turk Hostel Company help international students?
Turk Hostel Company focuses on foreign students applying to study in Turkey from different regions from all over the world, and since they are the most in need of housing after their arrival in Turkey in order to complete their education, Turk Hostel will receive the student from the moment he arrives at the Turkish airport, And the presentation of a variety of different housing for him, the most important of which are in student housing within universities, as they are closer to the student than the university and less expensive, and their services are suitable for the student and the way of life in them is more flexible and easy.
The student's option to study at Nisantasi University allows Turk Hostel to secure housing for the foreign student inside the university housing of Nisantasi University, and at costs that suit him due to his choice of the type of housing inside Nisantasi University that suits him, and with the advantages he wants, Turk Hostel offers all available services In front of the students and help them make their best and most appropriate options in order to continue their studies and educational attainment without distraction.
For more information about university housing at Nisantasi University, you can contact Turk Hostel Company , which will help you provide your various and different housing needs that suit you to be able to continue your studies safely and comfortably, through the information provided in the link below:
WhatsApp : https://wa.me/message/K4JILOO3AFUHA1
Address

Maslak Mahallesi,Sarıyer/İstanbul

City

İstanbul

State/county

Istanbul

Zip/Postal Code

34398

Country

Turkey