The Istanbul Gelisim University Dormitory ,found to provide a place of residence and stability for these students throughout the academic year for them, and each university housing contains many services that are in the public and personal interest of the university student. Turk Hostel also helps all these students by working to find suitable housing for them, which contains the various necessary life services that they need as university students.
Istanbul Gelisim University Dormitory Location
The Istanbul Gelisim University Dormitory Location is a beautiful location characterized by the beauty of its area in which it is located, as it overlooks the sea, which adds to the landscape of nature's splendor and aesthetics, and this contributes to the views of the residential rooms being distinctive and unique, which leaves a beautiful impression on students when they see them, And it makes them encouraged to reside and settle in this beautiful housing, and the university housing location is near the university, and this is another feature that characterizes the university housing location at Istanbul Gelişim University, and the Avcilar neighborhood, in which the housing is located, is one of the most active and active neighborhoods of Istanbul throughout the day and enjoys a population movement heavy. Thus, there are several advantages of the Istanbul Gelisim University housing Location ,which every student wishes to find in his residence site. The housing Location is of no less importance than other components related to university housing for students.
Istanbul Gelisim University Dormitory fees
Istanbul Gelisim University Dormitory fees ,which the housing administration requires from its students, are fees that take into account the different students. There are several factors that play an important role in determining the value of the monthly or annual fees incurred by the university student, including: the number of people who will live together, so when the student chooses the room for him alone, the fees will be The consequences for him are more than if someone else sat with him, and Turk Hostel shares the concerns of students, so it stands with them, and works to harness its time to find them housing with reduced and appropriate fees, and it searches for them in various public and private housing until it finds the most appropriate and best housing that includes all their choices, so that is specified The student helps him during his search for university housing, and saves him effort and a lot of time, so he does not waste his time, but rather uses it with something else, as there are several things that must be organized during the first period that he comes to the university, and according to the different housing fees that students must pay, they are housing fees Istanbul Gelişim University , which is provided by Turk Hostel for all students, is as follows:
– Room fees for one student: (click here)
– Room fees for two students: (click here)
– Room fees for three students: (click here)
– Room fees for four students: (click here)
– Room fees for five students: (click here)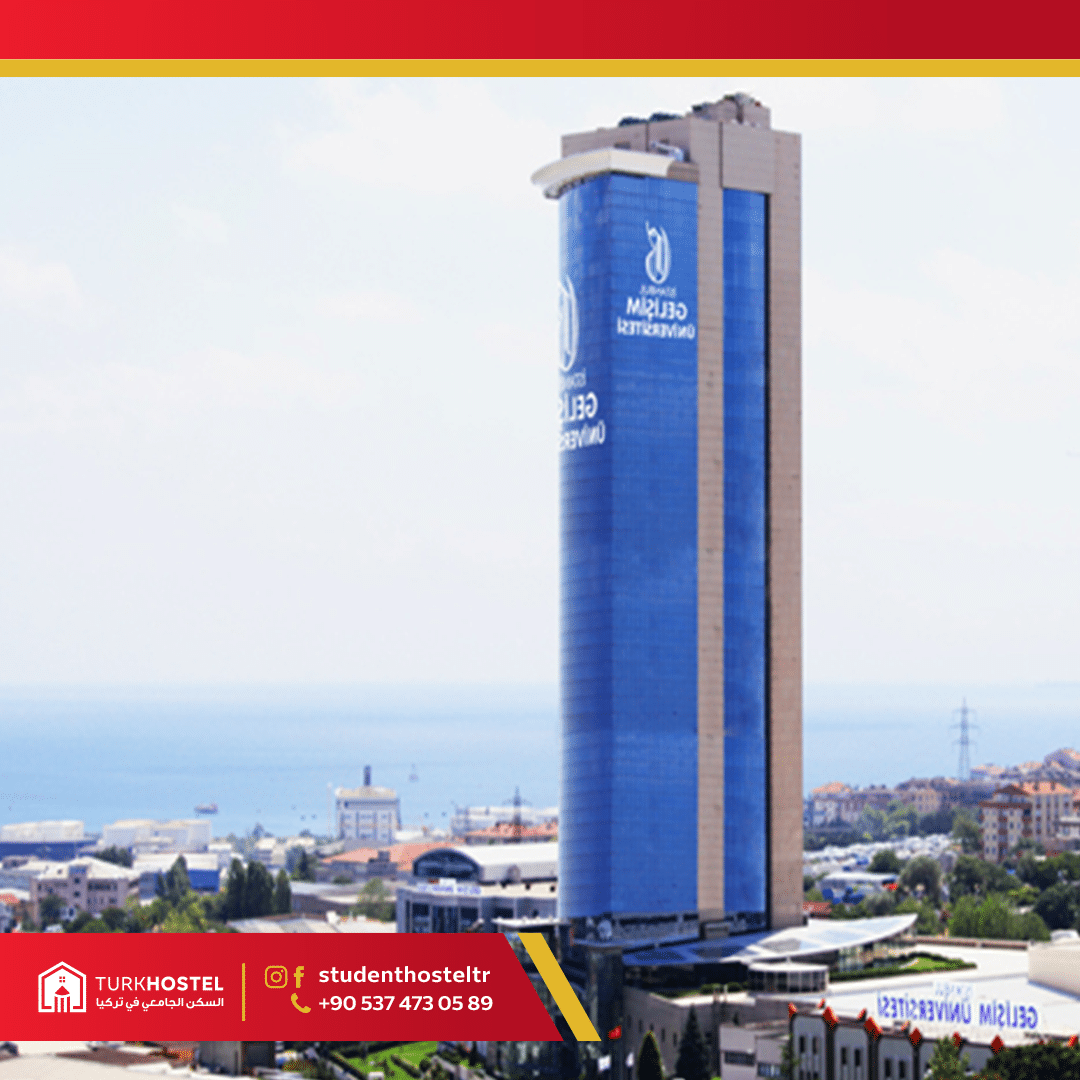 Istanbul Gelisim University Accommodation
The Istanbul Gelisim University Accommodation is one of the most important and prestigious residences affiliated with Turkish universities, as it is one of the civilized and upscale residences that cares about the student and his comfort and does all its efforts and provides all its services so that the university student can enjoy a quiet and comfortable residential environment for him during his stay and study at the university, in addition to the university's sophistication and attendance In its dealings with students, its housing is also the same, where the comfort of the students and their sense of stability in the housing are among the things that the housing administration takes into account, in order to secure a quiet and comfortable academic atmosphere, which helps them to focus and study effectively, so it makes the choice open to them and makes them choose in everything without Forcing, he can choose who will live with him in the room and choose the room that matches his desire and taste, each student has his own taste, as there are many students' desires to choose residential rooms and the desires differ from one student to another, and Turk Hostel harnesses all its capabilities in serving students during their search for housing university, seeking and hastening to secure the most appropriate housing for them in record time.
Istanbul Gelisim University Female Dormitory
The Istanbul Gelisim University female Dormitory includes units for female students, so that they can enjoy comfort throughout their stay in it during the academic year, and the rooms inside are organized as they attract the attention of female students with their arrangement and cleanliness. Each room has accessories for each student, including a bed, a wardrobe to put clothes, and a study library. Each room is attached to a bathroom and a refrigerator, and in some of them there are kitchens as well. Each room has its own services that distinguish it from others. There are also various services available in the female students' Dormitory at Gelisim University that serve the students and help them settle in comfortably. And safety, as the female students' residence is very secure, and security monitoring is available at its entrances and exits during the day, which gives them that sense of safety.
And the Dormitory has central heating in the winter so that the students can enjoy warmth throughout the winter period, and in return there are air conditioners during the summer, and the students resort during their search for university housing to Turk Hostel, which works hard in every way it can to find them rooms within the housing for students at Istanbul University Gilisim, which suits them and agrees with their aspirations and desires.
Services provided by Turk Hostel:
Turk Hostel provides students of all nationalities with university housing affiliated to the university in which they have obtained admission, and this is at the most difficult stage when the university student needs someone to guide him towards the best university housing for him, so Turk Hostel does its best to serve students and provide them with all information related to university housing at that point.
Thus, Turk Hostel has played an important role in serving students in several matters, the most important of which is: securing university housing for them, and its keenness to obtain comfortable housing, in which all the necessary ingredients are available that help students settle in it safely and comfortably during their academic year, and among the services that Turk Hostel is keen to present it to students, in order to make it easier for them to face the difficulty of the first stage of their coming to the university, which are:
– University housing insurance.
– Receiving students from the airport.
– Hotel reservation.
– Student residence.
– Certificate modification.
To contact Turk Hostel to ask about private or government university housing at Istanbul Gelisim University in Turkey, you can contact Turk Hostel at any time, which will be waiting for your questions and ready to answer your inquiries.
WhatsApp: https://wa.me/message/K4JILOO3AFUHA1