The Gelisim University Accommodation is available for students who have been accepted into Gelisim University, where the housing was found to be the new place of stability for students coming to their new city in the university they accepted, and it consists of fully furnished rooms, and each room provides complete privacy for its residents, and they also have a sufficient share of Communicating with others within the same residence, and the residential accommodations for male students are separate from those for females. Turk Hostel also does its best for students, to provide them with one of the accommodations suitable for their potential in Gelişim University Accommodation .
Gelisim University Accommodation Location
The Gelisim University Accommodation location its near from Gelisim University is in an area called Avcilar, which is one of the most beautiful tourist areas in Istanbul, as it is characterized by a beautiful view of the Sea of Marmara, and is also one of the most dynamic and lively areas, where there are many markets and shops, and it is also the location of university housing Gelişim University has a privileged location, as it is located near the university, which provides students with many facilities, and there are many transportation stops in the area where the residence is located, and it works to serve students by facilitating their movement in Istanbul, where there is a metrobus line, which is one of the most important Transportation means in Istanbul, which connects this neighborhood to other neighborhoods. Several hospitals and health centers are also available in the region, which receive all citizens to provide health services to them. Thus, there are many incentives for the student to encourage him to enroll in university housing at Gelisim University, and he is reassured in all respects. He is aware of the smallest details regarding the Gelişim University housing location .
Gelisim University Accommodation Fee
Gelisim University Accommodation fees are reduced fees and are suitable for most students who apply to register in this housing. After students obtain and secure a university branch at Gelisim University, they work to find the most suitable housing for their situation, as Gelisim University has several student housing and low-cost housing units compared to other universities, as well as fees Gelişim University housing is different from one dormitory to another and from one room to another according to the services in each dormitory, and knowing the area of the room helps in determining the housing fees, because the larger the area, the higher the fees, noting that the quality of the services provided is the same and does not change from one dormitory to another, so all the dormitories are characterized by seeking to provide what satisfies the student And to make him comfortable, Turk Hostel helps students coming from other countries, in addition to students in the same region and country, in finding the most appropriate housing for them in terms of fees and costs. as follows:
– Room fees for one student: (click here)
– Room fees for two students: (click here)
– Room fees for three students: (click here)
– Room fees for four students: (click here)
– Room fees for five students: (click here)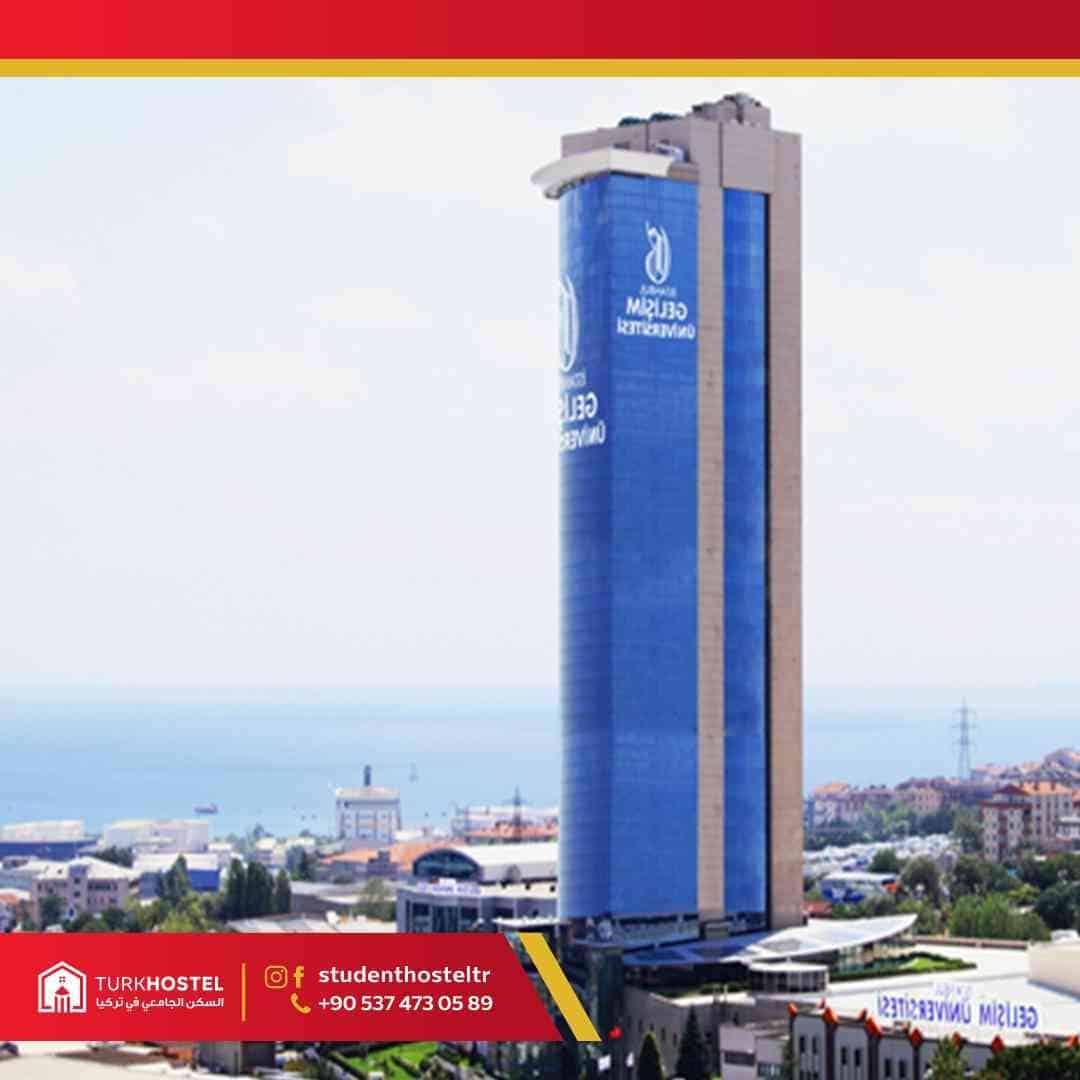 Gelisim University Dormitory
Gelisim University Dormitory is units consisting of rooms provided by Gelisim University to students who have accepted and obtained a university seat in it, and one of the advantages of student Dormitory at Gelisim University is that any student can have a separate room of his own or choose a shared room with someone He determines the people who will sit with them and live with them, as he can determine their number, and students can comfortably enjoy all the services available in the room, where each student has the services that belong to him alone, and among the special services provided to students, that each one of them has his own bed and study library on which he will study Also, among the general services provided to students, is the presence of the Internet in an effective and strong way during the school year, and the entrances and exits of the residence are fully secured in order to ensure the safety and comfort of students, and during students' registration for student housing at Gelişim University, Turk Hostel provides assistance to all male students And the females are on their journey, so they harness all their capabilities to serve them and to secure the most suitable housing for them.
Gelisim University Female Accommodation
Student housing is available at Gelisim University Female Accommodation , which is equipped for female students coming from various other countries in order to study at Gelişim University, so it will be their new place of residence during their study period at the university and it is registered annually. It is distinguished and fulfills all their residential desires for a sense of stability, and the housing administration is keen to provide a safe environment and a calm psychological atmosphere for the students residing in the female students' Accommodation. Their comfort is always inside the Accommodation, and the female students' Accommodation at Gilsheim University is one of the student residences distinguished by its beauty, so the rooms have attractive and charming views as they overlook the sea. Suitable housing for them and contributed to securing all the missing needs so that they can enjoy safe and comfortable housing.
Services provided by Turk Hostel:
– University housing insurance.
– Receiving students from the airport.
– Hotel reservation.
– Student residence.
– Certificate modification.
To contact Turk Hostel to ask about private or government university Accommodation at Gelisim University in Turkey, you can contact Turk Hostel at any time, which will be waiting for your questions and ready to answer your inquiries.
Contact in the link below:
WhatsApp: https://wa.me/message/K4JILOO3AFUHA1
(Istanbul Gelisim University Dormitory)
(Gelisim University Female Housing)